Benching Systems Installed for Offices Throughout Chicago, IL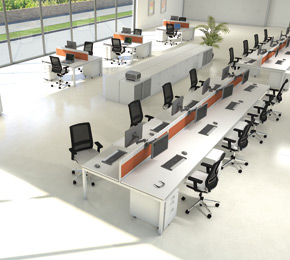 Benching systems provide a streamline and minimalistic aesthetic. By eliminating walls between workspaces, a benching system is also the ideal setup for an office where collaboration amongst employees needs to be fostered. If you are interested in a benching system for your business in Chicago, IL, you can get the most for your money with Smart Office Assets. We sell only name brand preowned office furniture of the highest quality, so you can feel confident that you are getting furniture that will look great for a long time and is well within your budget.
Smart Office Assets has over five decades of collective experience in liquidating, selling, and installing office furniture. We have performed liquidations for Fortune 100 companies, and our inventory is constantly being updated with fine new pieces from top manufacturers such as Knoll, Steelcase, and Herman Miller. What's more, we will use our expertise to recommend a benching system for your office that maximizes workflow and complements the current décor of your office. You can also expect from us:
One of the quickest turnaround times in the business, so you will be able to get your furniture installed and get back to business as fast as possible.
An in-house project manager who will oversee your project from beginning to end
An on-site project manager who will ensure that the installation of your benching system is done properly the first time
To learn more about the premium preowned benching systems we have available for your business in the Chicago, IL, area, contact Smart Office Assets today.