Premium Preowned Benching Desks for Businesses in Columbia, MO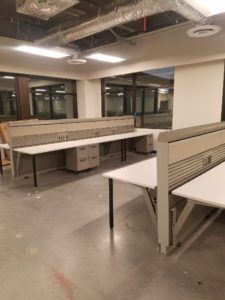 Benching desks are becoming a popular choice for businesses that want a collaborative and flexible workspace. Also known as benching systems, this type of workspace takes up a minimal footprint due to employees sharing one long surface. It also allows for multiple types of configurations and is easy to add on to should your workforce continue to grow. Not to mention, benching desks provide a sleek, modern, and minimalistic appearance for your office. If you are looking for benching desks for your business in Columbia, MO, but are also wanting to be sure you're getting the best bang for your buck, then there is no better resource than Smart Office Assets. We are a leading seller of premium-quality preowned office furniture of all kinds, and we can help you outfit your office with just the right benching desks at a fraction of the cost as new ones.
Office Furniture Solutions and Services
All of the preowned furniture we sell is from top brand names in the industry, such as Knoll, Herman Miller, and Haworth. We are happy to help you select from the inventory we have housed in our 100,000 square foot warehouse based on your specific needs. What's more, we offer additional services to make acquiring benching desks as easy on you as possible, including:
Design – Our space planners can work within an existing set up or design a new office configuration from scratch to help you maximize your office space.
Delivery – Because we house our own inventory, we are able to offer much quicker turnaround times on delivery than many other companies.
Installation – We work with trusted installation teams that can get your benching desks set up properly so that they are ready for immediate use.
If you would like more information on the preowned benching desks we have available for your office in the Columbia, MO, area, contact Smart Office Assets today.