Get Modern Benching Desks for Your Jefferson City, MO, Business at an Excellent Value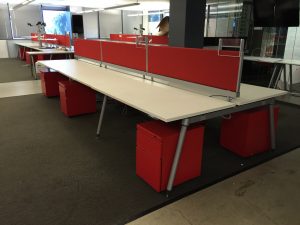 Benching desks are a popular choice among businesses that encourage their employees to collaborate. Unlike traditional cubicles, which tend to feature walls that close employees off from one another, office benching provides a sense of openness. This open workspace can also give a trendy and modern feel to your office environment. For businesses in the Jefferson City area looking to get the most for their money on benching desks, there is Smart Office Assets. We are a leading provider of premium-quality preowned office furniture. All of the pieces we resell are in superb condition and are from top brand names such as Knoll, Herman Miller, and Haworth, yet they are a fraction of the cost that new furniture would be.
Why Buy New When You Can Buy Preowned?
It's a prudent business decision to work with us, because buying preowned benching desks from Smart Office Assets is:
Financially sound – You will be maximizing the return on your office furniture investment because you will be receiving benching desks that are of an excellent quality and will last for years to come, yet you will be paying a far lower price than you would if you bought new office furniture.
Environmentally friendly – Purchasing preowned office furniture helps your company go green because you are recycling these materials rather than allowing them to end up in a landfill.
Socially responsible – By supporting Smart Office Assets, you are helping a company that is passionate about doing the right thing. We make every effort to resell the office furniture we liquidate, and anything that does not meet our high standard to be resold is donated to good causes such as schools and churches.
For more information on the benching desks we currently have available for your business in Jefferson City, contact Smart Office Assets today.