High-Quality Preowned Benching Desks for Springfield, IL Businesses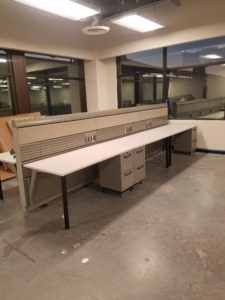 Looking to free your employees from the isolation that their cubicles confine them to? A great solution is to buy preowned benching desks from Smart Office Assets. Benching desks are desks with one long surface where employees are able to sit next to and collaborate with one another without having to look over privacy walls. This can give your Springfield, IL business a sense of openness. It also minimizes the space that is used for employee seating, opening up more space to be used however you see fit. As a leading provider of top-quality preowned products, Smart Office Assets can help you every step of the way, from design, to delivery, to installation of your preowned benching desks, making the process as easy for you as possible. What's more, our preowned benching desks cost significantly less than brand new ones, yet look and function as if they were new, saving you money that can be used in other aspects of your business.
We Work with the Top Names in the Business
Not only will the benching desks you get from Smart Office Assets for your Springfield, IL business look and function beautifully, they will be from trusted manufacturers as well. We proudly work with top brands like Knoll, Herman Miller, Haworth, and more so you can rest assured that you are receiving a great product at an even greater price. Additionally, we are often able to match the manufacturer's warranty, giving you added peace of mind in knowing that your investment is a wise one.
To learn more about the benching desks we have in stock for your Springfield, IL business, contact the experts at Smart Office Assets today.