Office Benching Solutions for Kansas City, MO, Businesses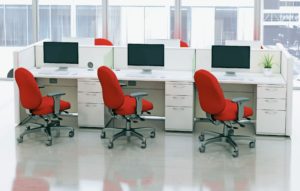 At Smart Office Assets, we proudly offer a variety of different benching systems to businesses of all industries and sizes. This style of furniture has become popular with business leaders because it can increase worker productivity and encourage collaboration among teams. Furthermore, it can completely change the look and feel of a workspace, making it more modern and streamlined. If you feel a benching system could be beneficial for your business in Kansas City, MO, the dependable team at Smart Office Assets is standing by to help you pick furniture from our incredible selection of preowned pieces that will meet your needs and fit your budget.
The team at Smart Office Assets has over 50 years of collective experience in the office furniture industry. We liquidate office furniture from reputable businesses across the country, including Fortune 500 companies, then resell only the finest pieces. This allows our customers to obtain high-end, name brand furniture for far less than these pieces would cost new. So, by purchasing benching systems from us, your company will:
Maximize its return on your office furniture investment, because you will not have to break the bank to get long-lasting furniture
Be environmentally responsible by recycling furniture instead of purchasing new
Have the support of a knowledgeable team every step of the way, from selecting furniture to final installation
What's more, Smart Office Assets prides ourselves on being a socially responsible company. By working with us, you help us to continue repurposing preowned pieces that would otherwise be tossed into a landfill. And, we donate pieces that do not meet our high standards for reselling to good causes, such as schools and churches.
For more information on the benching systems we have available for your company in the Kansas City, MO, area, contact Smart Office Assets today.