Modernize Your St. Louis Business with Collaborative Office Furniture from Smart Office Assets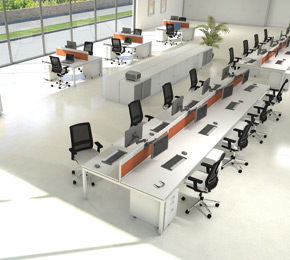 Having collaborative office furniture in your office is a fantastic way to build a creative, relaxed environment where employees can improve their relationships with one another, as well as increase their productivity through teamwork. At Smart Office Assets, we have a large selection of preowned collaborative office furniture that not only looks amazing, but is also available for just a fraction of the price as buying new furniture. This allows you to save money on your furniture budget, which you can put towards other aspects of your business.
Great Reasons to Work with Smart Office Assets
At Smart Office Assets, we want to make sure that we are there for you every step of the way. That's why we are happy to provide a variety of services such as a design team, project managers, and delivery and installation services, so your commercial office furniture order goes as smoothly as possible. Additionally, you can feel good about the collaborative office furniture you purchase from Smart Office Assets because you will be:
Maximizing your investment – Because we only sell the highest quality preowned pieces, your collaborative office furniture will look brand new, but you will get it at a much lower price point.
Going green – When you purchase preowned furniture, you are helping to reuse materials that may have otherwise ended up in a landfill.
Supporting a charitable company – Any furniture that we acquire that does not meet our incredibly high standards will be donated to good causes like churches and schools.
For more information about the collaborative office furniture that we have available for businesses in the St. Louis area, contact Smart Office Assets today.