Preowned Knoll Workstations That Are as Good as New Available for Businesses in Decatur, IL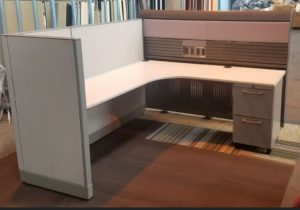 Are you looking to accommodate a growing workforce or to update the look of your business in the Decatur, IL area? Then preowned Knoll workstations from Smart Office Assets are your best bet. We have a wide selection of preowned office furniture of all kinds from highly regarded brand names in the industry, including top-of-the-line Knoll workstations that still look and function like new. By offering these premium workstations at a fraction of the cost as they would be new, we allow our clients to maximize their return on their office furniture investment. What's more, your company will be going green by recycling these materials, instead of allowing them to end up in a landfill.
Customize Your Workstation Project
Smart Office Assets is happy to work with you to ensure that your preowned Knoll workstations meet all your company's needs. We can apply different factory finishes, such as laminate, paint, and fabrics, to ensure that your workstations align with your company's aesthetic. Plus, we offer all the additional services needed to ensure you are thrilled with your workstations, including:
Design – We can help you create a brand-new layout that maximizes your office space or work with an existing layout.
Project managers – Your project will be coordinated step by step so that you can focus on running your business.
Shipping – We will coordinate all the logistics of shipping your Knoll workstations to you, and we are proud of our quick turnaround times.
Installation – Our trusted installation team will work efficiently to get your workstations set up promptly so your employees can get to work.
Customer support – Contact us any time during or after your workstation project should you have any questions or concerns.
For more information on the preowned Knoll workstations we have available for your business in the Decatur area, contact Smart Office Assets today.