Preowned Knoll Workstations Available for Businesses in Springfield, IL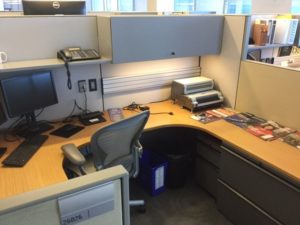 Knoll is a leading name in the office furniture industry, which is why at Smart Office Assets we are proud to sell preowned Knoll workstations in gently used condition. These premium-quality workstations are built with durability and longevity in mind, so you can be sure that even though they are used, your company will get years or even decades of use out of them. What's more, you will be able to acquire attractive, modern-looking workstations for a fraction of the price when compared to new furniture, allowing you to maximize your company's office furniture budget.
Why Choose Smart Office Assets?
Smart Office Assets carries a huge selection of preowned Knoll workstations, so you are sure to find what you are looking for with us. We house over 100,000 square feet of warehouse space ourselves, so we know exactly what we have available, as opposed to sourcing the furniture once an order comes in. This means that we can vouch for the quality of the product you will be receiving, as it has already undergone our stringent inspections. What's more, we are often able to match the manufacturer's warranty, further making you feel as though you are receiving new furniture for the price of preowned. Plus, we can ship and have your workstations installed quickly, as opposed to many other used office furniture companies who seek out furniture to fulfill an order.
Additionally, we can customize our products to offer custom solutions for our clients. Some of the options you will be able to choose from are:
Panel height
Layout size
Number of occupants (single, double, etc.)
Colors of fabric, laminate, and paint trim
Storage options
Sit-stand ability
And more
For more information on the Knoll workstations we currently have available, contact Smart Office Assets today. We will be glad to assist you in making your selection.