Businesses in the Kansas City Area Searching for Office Chairs Turn to Smart Office Assets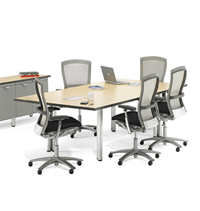 No matter what type of office chairs you are looking for to furnish your office in the Kansas City, Missouri, area, Smart Office Assets has the solution. We offer a wide range of durable and attractive preowned office furniture, including office chairs, workstations, executive office furniture, and much more. We liquidate office furniture from companies around the country, including Fortune 500 companies, and only resell pieces from top brand names such as Knoll, Herman Miller, and Steelcase.
Make the Responsible Choice for Your Business
Buying preowned office chairs from Smart Office Assets isn't just a smart choice for your business, it's the responsible one. That's because:
You will get the maximum return on your investment, as our preowned pieces look and function like new, so they will last a long time, but you will spend a fraction of the cost
Your company will be greener by recycling office chairs, instead of these materials ending up in a landfill
You will be supporting a company that gives back to the community – any pieces of furniture that do not meet our high standards for reselling are donated to worthy causes such as schools and churches
What's more, our in-house designers are happy to work with you and discuss your needs, as well as take a look at your office's current aesthetic, to help you pick office chairs that exceed your expectations. If you are looking for additional furniture, such as workstations, our space planners can also help you maximize your office space.
For more information on the office chairs we have available for your business in Kansas City, MO, contact Smart Office Assets today.