Preowned Office Chairs from Top Brands Available for Businesses in St. Louis, MO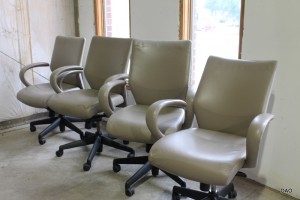 Providing functional and comfortable office chairs for your employees can increase morale and productivity. If you are looking to upgrade the chairs in your St. Louis, MO office, get the most for your money by turning to Smart Office Assets. We liquidate office furniture from companies across the country, and then refurbish and resell only premium pieces from top manufacturers. So, with us, you can get office chairs that look and function like new, but for a fraction of the price that they would cost new.
In addition to our large inventory of office chairs and all other kinds of office furniture, we also make the entire process of getting office furniture as easy on you as possible. What's more, we have one of the quickest turnaround times in the industry, so you can enjoy your updated office chairs in no time. You can also be sure that you are getting only top-quality pieces, as our furniture comes from highly regarded brands, including:
Knoll
Herman Miller
Steelcase
Teknion
Haworth
And more
Furthermore, by purchasing preowned office chairs from our company, you are making the environmentally and socially responsible decision. Instead of contributing to waste, you are recycling office furniture. And, any furniture that does not meet our high standards for reselling is donated to churches, schools, and other good causes.
Additionally, if you are in need of any other type of office furniture, such as cubicles, we are an excellent source for that as well. We have designers who can take a look at your floor plan to help you maximize the use of your space, and our installation team will ensure that all pieces are installed quickly and properly.
To get started on selecting premium quality preowned office chairs for your business in the St. Louis, MO, contact Smart Office Assets today.