Purchase a Top-Quality Office Desk for Your Chicago, IL, Workspace at an Excellent Price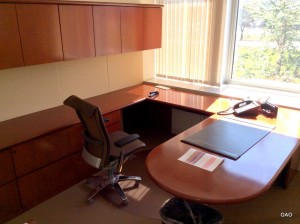 Your office needs to have stately furniture that looks impressive, but you also want to be smart with how you spend company money. That's why if you are in need of an office desk for your workspace in the Chicago area, you should turn to Smart Office Assets. We are a premier provider of preowned office furniture that looks and functions like new, yet costs a fraction of the price. So, you will be able to count on a durable, attractive office desk that also lasts well into the future, which lets you maximize your return on your office furniture investment.
Make the Environmentally and Socially Friendly Choice by Purchasing our Preowned Office Furniture
Our impressive inventory comes from the office furniture liquidations we perform around the country, including for Fortune 500 companies, and we resell only the pieces that meet our extremely high standards. Any furniture that does not meet our strict criteria is donated to schools and churches. That's why when you purchase an office desk from us, you can feel good that not only are you going green by recycling furniture that could otherwise end up in a landfill, but you are also supporting a company that gives back to the community.
Select from Top Names in the Office Furniture Industry
In addition to having extremely high standards for the office furniture we resell, we also only stock furniture from top manufacturers in the industry. Some of the brand names you can often find in our inventory include:
Knoll
Herman Miller
Haworth
Steelcase
Teknion
Geiger
Compel
Z Desk
And more
To learn more about selecting an office desk from our inventory of preowned office furniture, contact Smart Office Assets today. We work with businesses throughout the Chicago area.