Get a Stylish Office Desk for your Workplace in St. Louis, MO, Without Breaking the Bank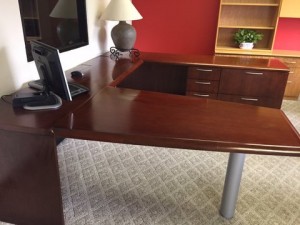 For an office desk that meets all your functional and style needs, turn to the selection of preowned office furniture from Smart Office Assets. After all, why buy new, when you can buy preowned? Our selection of office furniture comes from top companies throughout the country, including Fortune 500 companies, and we carefully select only the pieces in the best condition to resell. What's more, all of our furniture is from highly regarded brand names, such as Knoll, Haworth, Herman Miller, and more. So, not only will you be getting an excellent value on an office desk for your St. Louis workplace, but you can also be sure that it will be a top-quality desk that will be attractive and last for years to come.
Buying Preowned Office Furniture is the Responsible Choice
You will be able to feel good about your decision to buy a preowned office desk from Smart Office Assets because:
You are helping the environment by recycling a desk which could otherwise end up in a landfill
You will maximize the return on your investment, because the desk will be a fraction of the cost of new furniture, yet will look and function as good as new
The pieces that do not meet our high standards are donated to charitable causes such as schools and churches, so supporting our company also helps the community
Additional Support Services
In addition to our incredible selection of preowned office furniture, we also offer support services. For instance, we are able to apply different laminate, paint, and fabric finishes to our furniture to allow for customization and alignment with your company aesthetic. Furthermore, we will coordinate the shipment and installation of any office furniture purchased from us.
For more information on purchasing an office desk for your workplace in the St. Louis, area, contact Smart Office Assets today.