Experienced Office Furniture Liquidators Serving the Kansas City, MO, Area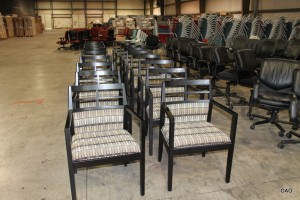 There are no finer office furniture liquidators that you can trust for your Kansas City, MO, business than Smart Office Assets. Our owners have over 50 years of combined experience in liquidating office furniture and have worked with many top businesses in the country, including Fortune 500 companies. We are a service-oriented company that specializes in giving our clients one-on-one attention, and will oversee your entire office furniture liquidation project from beginning to end, making the process as easy on you as possible.
Why Choose Smart Office Assets?
The team at Smart Office Assets is not only highly experienced, but we are also passionate about what we do because we believe in helping the environment. Companies choose us to be their office furniture liquidators because:
We have a large network of businesses we sell to and an expansive 25,000-square-foot showroom, so we will be able to complete your liquidation process quickly and efficiently
We believe in going green and recycling as much of the office furniture we liquidate as possible, either by refurbishing and reselling pieces that are still in good condition, or donating the furniture to good causes such as schools and churches
We can help you re-furnish your office with quality preowned pieces from top brand names, such as Knoll, Haworth, and Herman Miller, allowing you to upgrade your office furniture with minimal impact on the environment
To inquire further about hiring us as your office furniture liquidators, contact Smart Office Assets today. Our specialists will be happy to discuss your project with you, and we offer free consultations. Our experienced team is proud to serve companies throughout the Kansas City, MO, area.