Sit Stand Desk Options for Your Office in Chicago, IL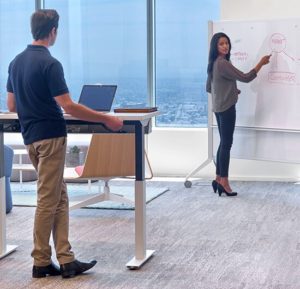 If you are interested in a sit stand desk for your office in Chicago, Illinois, put your trust in the team at Smart Office Assets – the premier provider of durable, top-quality preowned office furniture. We liquidate furniture for top companies, including Fortune 500 companies, and only resell high-end pieces that meet our rigorous standards. What's more, our furniture is from leading brand names in the industry, such as Knoll, Herman Miller, and Haworth among others.
Realize Your Office Space's Potential
At Smart Office Assets, we believe that any office space has the potential to be exceptional. With a preowned sit stand desk, you can boost productivity and get your blood flowing by standing when you want, and take a breather while still working by lowering the desk back to seated level. What's more, our designers are happy to help you decide which of our sit stand desks will work best in your space, as well as help you select from any of our other office furniture such as computer chairs or bookcases, in order to maximize your office space.
Preowned Office Furniture is A Smart Investment
When you work with Smart Office Assets, not only can you feel confident that you are receiving a sit stand desk of high quality from us, but you can also feel that your money is well spent because:
You are maximizing your return on office furniture investment by paying less money for brand name furniture than you would on new furniture
You are being eco-friendly by recycling this furniture, instead of allowing it to simply be tossed in the trash
Our company gives back to the community by donating pieces that don't meet our high standards for reselling to good causes, like churches and schools
To discuss the sit stand desk options for your office in the Chicago, IL, area, contact Smart Office Assets today.