Choose a Preowned Sit Stand Desk for Your Office in Kansas City, MO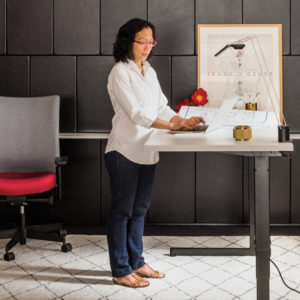 Are you considering a sit stand desk for your office in Kansas City, MO? If so, you can do no better than the value and selection offered by Smart Office Assets. We are a leading provider of premium-quality preowned office furniture. What's more, our company's founder has more than three decades of experience in liquidating, selling, and installing office furniture, and we currently liquidate furniture from Fortune 500 companies. So, you will be hard pressed to find an office furniture company with a more selective inventory or with more experience than us.
Sit Stand Desks from Top Manufacturers
Smart Office Assets has extremely high standards for the office furniture that we resell. So, you can be sure that the sit stand desk that you choose will look and function like new, yet it will only cost a fraction of the price, giving you a maximum return on your office furniture investment. What's more, our preowned office furniture is from top brand names in the industry, including:
Knoll
Haworth
Herman Miller
Teknion
Steelcase
And more
Office Space Design Services
Not sure which sit stand desk will work best in your space? Or, are you interested in furnishing your entire office, but aren't sure where to begin? We're here to help. We offer design and space planning services that can help you overcome any potential design challenges or space limitations.
To learn more about our sit stand desk options or the design services we offer in Kansas City, MO, contact Smart Office Assets today.