Sit Stand Desk Combos Available for Businesses in St. Louis, MO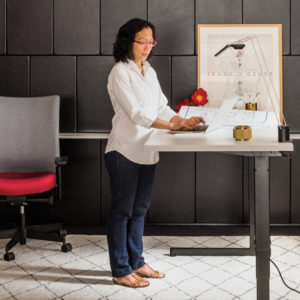 Business leaders or employees in St. Louis, Missouri who are interested in purchasing a sit stand desk for their office space can turn to Smart Office Assets for an excellent selection of preowned office furniture. Our company has been in operation since 2008, and our owner has over three decades of experience in the industry. We perform office liquidations for highly reputable businesses across the country, including Fortune 500 companies, and only resell pieces that meet our extremely high standards.
Increase Productivity and Energy Levels with a Sit Stand Desk
People are increasingly turning to sit stand desks because this intuitive style of office furniture combines the comfort of a traditional desk with a modern standing desk. If you feel like you're getting restless and would like to improve your circulation in order to get your creative juices flowing, simply adjust the height of the desk to standing level. Once you feel you've been on your feet long enough, the desk is easily lowered back down so that you can sit.
Top Brand Names at Incredible Prices
When you turn to Smart Office Assets for a sit stand desk, you can feel good that your money is being well spent. That's because you will be receiving a high quality piece of furniture that will last for years, but it will be far less than the price of a new sit stand desk. What's more, you can be sure your desk will be from a reputable brand, because we only sell office furniture from highly regarded manufacturers such as:
Knoll
Herman Miller
Teknion
Steelcase
Haworth
And more
To learn more about selecting a sit stand desk from our inventory, contact Smart Office Assets today. We are happy to discuss your options and help you make the perfect choice for your office space in St. Louis, MO.