Used Office Furniture That Looks Like New Available for Jefferson City, MO, Businesses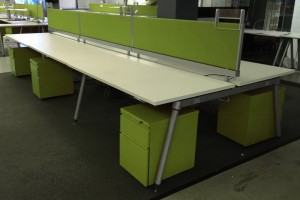 Why buy new, when you can buy preowned? Smart Office Assets offers premium-quality used office furniture that can allow you to furnish your entire Jefferson City office at a fraction of the cost as buying new furniture. We have extremely high standards for the furniture we resell, so you can be sure that the furniture you receive will be commercial-grade, attractive pieces that will last well into the future. What's more, we only resell furniture from top name brands, such as Knoll, Haworth, and Herman Miller, so you can count on top-quality, modern furniture.
Get the Maximum Return on Your Office Furniture Investment
Buying used office furniture is a smart decision for many reasons. First of all, you will be benefiting your company's bottom line by spending less than you would on new furniture, yet you will still be able to get many years of use out of your furniture. Plus, your company will be going green by reusing these materials, instead of allowing them to end up in a landfill.
Office Furniture of All Kinds
Smart Office Assets carries a huge inventory of used office furniture in our 100,000-square-foot warehouse, so we will be able to quickly deliver your furniture to you. Our inventory typically includes furniture for any part of the office, including:
Workstations and cubicles
Benching systems
Desk chairs
Break room furniture
Reception/lobby furniture
Conference room furniture
Executive office furniture
And more
For more information about the used office furniture we currently have available for your business in the Jefferson City area, contact Smart Office Assets today. We are happy to help you make a selection, as well as help you plan your office space.