Used Workstations in Excellent Condition Available for Businesses in Decatur, IL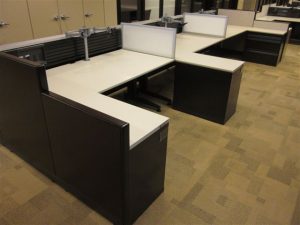 If your company is in need of workstations, then you may be concerned about obtaining high-quality furniture at a reasonable price, as any shrewd business leader should be. That's why so many businesses in the Decatur area have turned to Smart Office Assets for used workstations. We have an incredible selection of preowned workstations from top brand names – including Knoll, Herman Miller, and Haworth – yet they cost only a fraction of the price as they would new. What's more, we house our own inventory of used workstations, rather than seeking inventory once an order comes in, so we are able to vouch for the quality of our pieces and offer incredibly quick turnaround times for delivery and installation.
Why Buy Used Workstations?
Smart Office Assets doesn't just sell used office furniture because we can, but because we firmly believe it is the right thing to do. Choosing our preowned workstations is:
Environmentally friendly – Your company will be going green by recycling these materials, instead of allowing them to end up in a landfill.
Financially smart – By purchasing our used workstations, you will be getting top-quality, name brand pieces at a fraction of the cost of new furniture, letting you get an excellent return on your investment in office furniture.
Socially responsible – Smart Office Assets is a company that cares about the environment and we do everything possible to refurbish pieces so that they can be used again. Any pieces that do not meet our high standards are donated to good causes such as schools and churches, rather than being discarded.
To learn more about our large selection of premium used workstations, contact Smart Office Assets today. We serve businesses throughout the Decatur area.