Premium-Quality Used Workstations for Businesses in Peoria, IL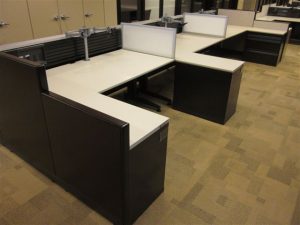 Purchasing used workstations is an excellent way to increase the bottom line of your business in Peoria. However, it is understandable that some people have reservations when it comes to purchasing preowned office furniture. How can you be sure that the furniture will last a long time, or get pieces that fit in with the current aesthetic of your office? When you work with Smart Office Assets, you won't have to worry about any of this. We are a premier provider of preowned office furniture of all kinds, and our used workstations are no exception, as we only resell pieces that meet our incredibly high standards of quality. Plus, our workstations are all from top brand names such as Knoll, Herman Miller, and Haworth.
Why Choose Smart Office Assets for Preowned Workstations?
Smart Office Assets has become known as the leading provider of used workstations because we:
Offer custom solutions to our clients, including helping them select the right workstations for their type of business, refinishing pieces with laminates and fabrics to align with their brands, and providing design services that can maximize the use of their office space
House our inventory ourselves, as opposed to seeking out inventory when a request comes in like other companies do, so we are able to offer quick turnaround times from order to delivery
Work with trusted teams for delivery and installation, so you can be sure your used workstations will be set up as quickly as possible, causing minimal disruption to your business
For more information about purchasing used workstations from Smart Office Assets, contact us today. We will be happy to answer your questions and discuss our current inventory.