Preowned Workstations – An Economical and Environmentally Responsible Choice for Businesses in Chicago, IL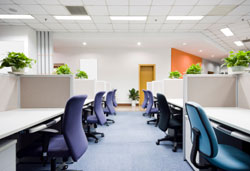 Purchasing preowned workstations from Smart Office Assets allows your business to procure high-quality, brand-name cubicles for much less than they would cost brand new, yet your employees and visitors to your Chicago, Illinois, office will never be able to tell the difference. We work with businesses throughout the country, including Fortune 500 companies, to liquidate their unused furniture. Then, we select the best pieces to resell to businesses like yours that are looking to make the responsible choice when expanding their office with additional workstations.
Smart Office Assets goes above and beyond what many other preowned office furniture resellers provide. You can feel confident when you partner with us for preowned workstations for your Chicago, IL, business, because:
We will help you manage your financial resources so that you get attractive, commercial-grade office furniture that is well within your budget – whatever that budget may be.
We have more than 50 years of combined experience in the office furniture liquidation and sales world, and we use our knowledge to streamline every step of the purchasing and installation processes.
We carry preowned workstations and other office furniture from highly regarded office furniture manufacturers such as Knoll, Herman Miller, Haworth, Steelcase, Geiger, Teknion, and many more.
Purchasing furniture from Smart Office Assets is also an environmentally friendly option because, rather than buying new, you've saving useful materials from being thrown away.
For more information on the preowned workstations we currently have in our inventory, contact Smart Office Assets today. We are happy to help you devise the perfect office furniture solution for your workspace in Chicago, IL.