Save Money by Buying Premium Preowned Workstations for Your Jefferson City, MO Office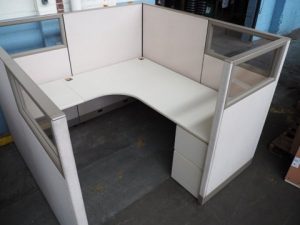 Workstations are arguably the most important part of your Jefferson City, MO office since that is where your employees spend most of their time and do most of their work. If you're looking to furnish your office, you're probably concerned about the high cost of this investment. Have no fear, the budget friendly preowned workstations from Smart Office Assets will equip your office with everything you need at a fraction of the price of new workstations. We have great relationships with some of the most recognized brands in the business, including Knoll, Herman Miller, and Haworth, and only acquire pieces that are in excellent condition. Plus, in many cases we can also match the manufacturer's warranty so you can be sure the workstations that you get will last for the foreseeable future.
Choose the Type of Workstation that Fits Your Needs
We carry a variety of different workstation styles so you can select one that fits your Jefferson City, MO office's needs. Our selection includes:
Low-walled workstations – Perfect for giving employees semi-privacy while also allowing them to easily collaborate with their coworkers if they need to.
Sit-stand workstations – These allow employees to raise their workstation when they feel like standing or lower it when they feel like sitting.
Standard workstations – These high-walled workstations give employees privacy and their own personal space.
Wall-free workstations – This type of workstation, also known as a benching system, allows employees to sit next to each other, maximizing their ability to work with one another while minimizing the office space that employee seating will take up.
To learn more about the different preowned workstations we have for your Jefferson City, MO office, contact the helpful experts at Smart Office Assets today.