Save Money Without Sacrificing Quality by Furnishing Your St. Louis Office with Used Cubicles from Smart Office Assets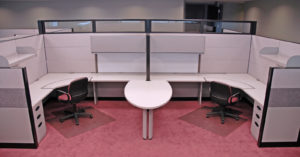 Purchasing used cubicles is a great way to protect the bottom line of your business. At first, you may be skeptical about buying used cubicles because you may be afraid that they won't be in good condition. However, when you work with Smart Office Assets, quality will never be a concern of yours. We only sell used cubicles that have been refurbished to meet our extremely high standards, so you can count on used cubicles that look like new, but at a fraction of the cost. Not to mention, our used cubicles are from the top brand names in the business such as Knoll, Herman Miller, and Haworth.
Reasons to Buy Your Used Cubicles from Smart Office Assets
When you turn to Smart Office Assets to purchase used cubicles for your office, you can feel confident in your decision because we:
Will help you from the design phase to the final installation, to ensure you get exactly what you need and the entire process goes smoothly.
House our inventory ourselves, so we are able to offer quick turnaround times.
Offer caring customer service throughout the entire purchase. So, should you have any questions or concerns about your used cubicles at any time, we will be there to answer them for you.
For more information about the used cubicles, or other types of used office furniture we have available for businesses in St. Louis, MO, and surrounding areas, contact Smart Office Assets today. We look forward to working with you to accomplish all of your office furnishing goals.